Osprey Fishing New Jersey - Reports
FOR REAL TIME UPDATES FALLOW US ON FACEBOOK! WWW.FACEBOOK.COM/OSPREYNEWJERSEY
---
Dec 21,2016
We had a decent day out there yesterday. We are starting to see the size fish we are looking for. we kept a few over 10 and released a few over 10. All anglers with larger fish actually attempted to release their fish. Unfortunately sometimes with blackfish in deeper water we are unable to do so because they suffer a barotrauma on the way up and it wouldn't be prudent if the fish would just go back to the bottom and die.

Kevin Dong had his PB of 11 pounds 2 ounces.
Joe Zagorski released a 13 pound 2 ounce fish caught on a jig.
Tim won the pool and got his PB of 13 pounds 7 ounces and knocked Chris M. out of the lead for the custom rod we give away to the biggest fish. Chris was in the lead with 12 pound 12 ounce fish caught on a jig.
A few other anglers had their PB of 8 and 9. No limits were reached today but there was plenty of meat to go around.

we sail every day weather dependent by reservation only. We limit the boat to 30 people so that there is plenty of room to move around. The fare is $85.00.

ALL GREEN CRABS AND WHITE CRABS, TACKLE (LEAD) ARE INCLUDED IN THE PRICE.

Tomorrow we have 9 spots left. Monday we are sold out with a waitlist but the rest of the week weather wise looks pretty good and we have light crowds signed up already.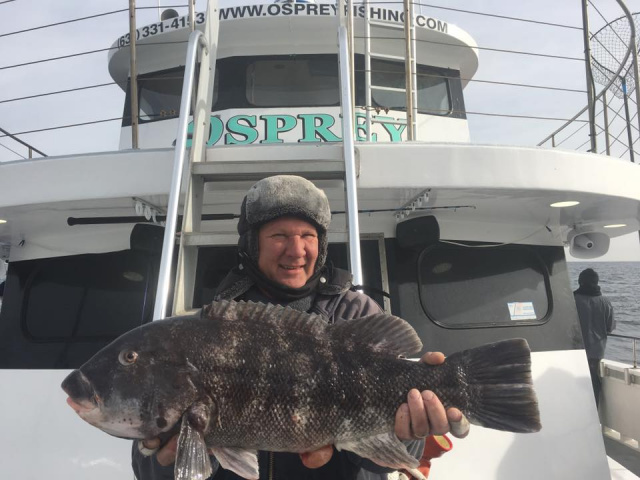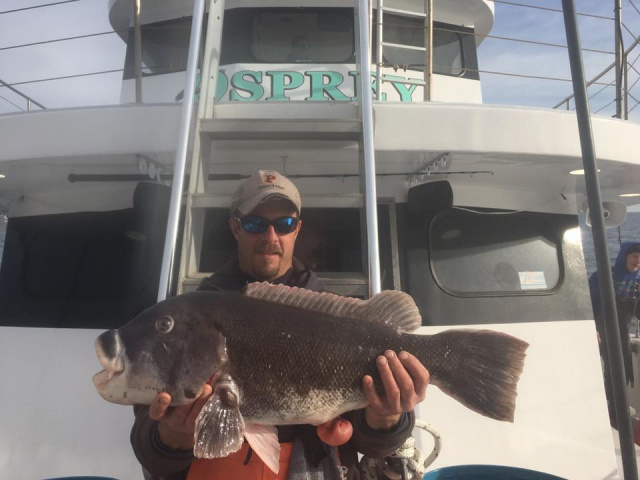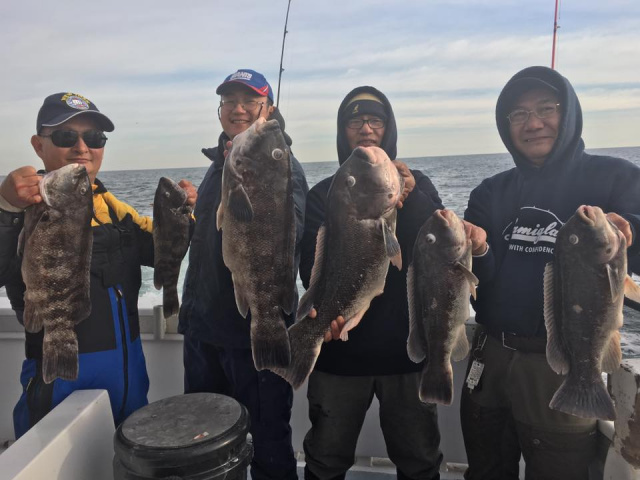 ---
DEC 11, 2016
Today was slightly better than yesterday but not nearly as good as it needed to be. Little more action in the bow area on the jigs. It was a beautiful day but like most beautiful days their wasn't much wind to hold us still. We had to try and hold the boat over the wrecks with the motors some of the day which isn't ideal for wreck fishing. High hook was 4 keepers and a big congrats to Chris M. Who caught his personal best tog ! It weighed in at the dock 12 pounds 12 ounces. Just shy of 13. It is our new leader for the big tog contest this year. Chris's fish was very much alive when we got back so he released it after it was weighed.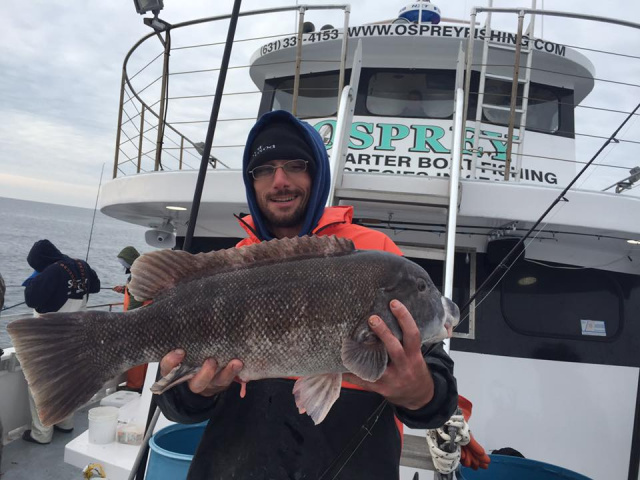 ---
DEC 10, 2016
Today was a terribly tough day. Not much action or many fish at all. Most anglers struggled. The "smash brothers" ken and ted came through. Ted had 5 keepers and the pool fish. Ken put some really quality fish over the rail. Tomorrow is another day, hopefully I will have more to report.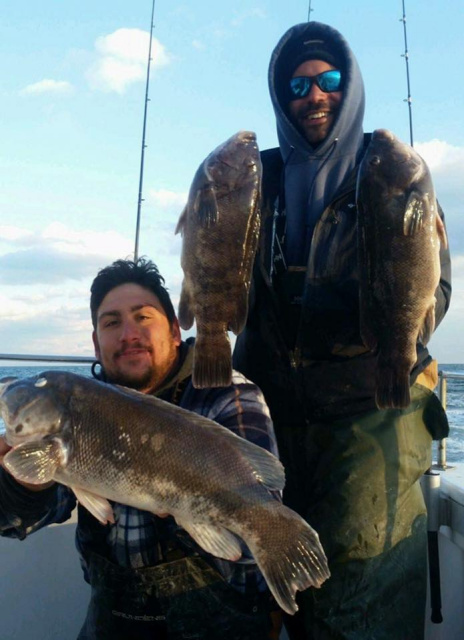 ---
NEW JERSEY REPORT:
Really great day on the water today. Beautiful weather nice people and good fishing! We couldn't have asked for a much nicer trip.

High hook was Arthur with 13 keepers! (He retained only his legal limit of 6)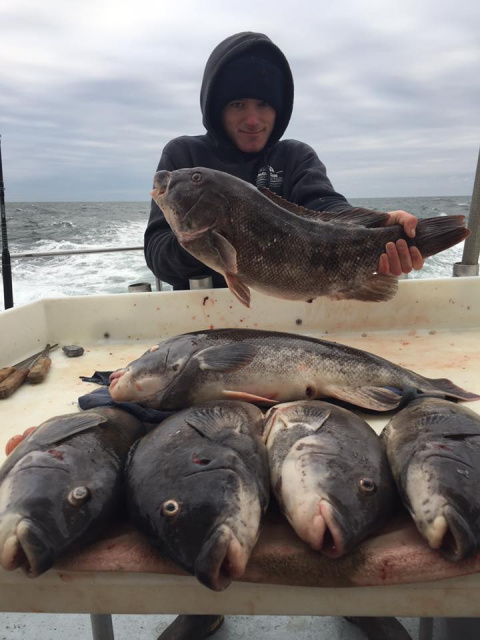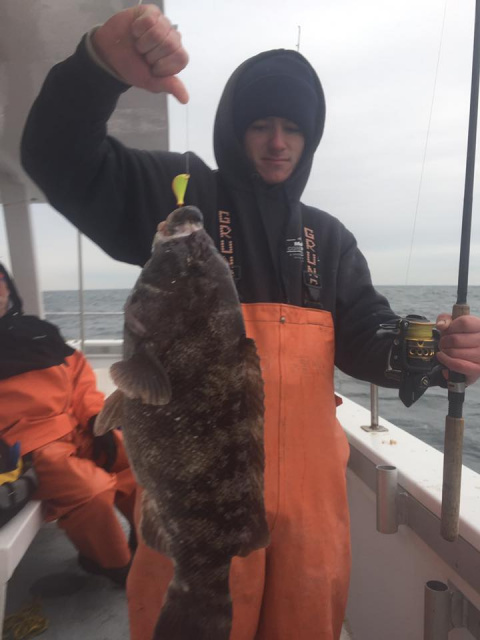 Pool fish was taken by Josh with a fish over 8 lbs and he had 10 keepers (only retained his legal limit)
Our chief float attendant travis caught his personal best. 11 pounds 11 ounces!


Sailing every day weather dependent by reservation only.
Limited to 30 people.
All Lead and tackle as well as green and white crabs included in the price.
www.ospreyfishingnewjersey.com
5164493255
---
Well Last year was a killer year for us! We acomplised just what we were looking to do. We put some really nice size fish in the boat and helped people catch their personal best togs!
This year has started out not bad. Lots of small fish bent the rods and kept people busy. Unfortunely we didnt have the size we were looking for. Dan Murphy started out the season right. He hooked and boated the first fish for the 2016/2017 season. It weighed in at 8 pounds 2 ounces. He won a free trip to come back out as well as took the pool that day. Eddie McCray from New York had 4 keepers up to 5 pounds.
We will be sailing everyday weather dependant. PLease call or text Amanda for reservations.
5164493255
---
WE ARE BACK IN JERSEY !
We have started our jersey blackfish season and have been delighted once again with the support from last years regulars and a bunch of new faces! As most of you know it is unseasonably warm this year. We have been fishing in all diffrent depths looking for a large body of tog. We have been sucessful at locating them, most of them small and return back home but plenty of rod bending action. The bigger fish seem to be spread out but are definitly starting to show up. Our pool fish every day has been 7lbs or bigger. The largest fish to date so far is 8.31lbs caught by Patrick on 12/12/15. Partrick is in the lead for the rod give away. The largest blackfish of the season wins a fishing rod built by Captain Neil custom rod. We will be sailing daily weather dependent in search of large atlantic city blackfsih! Hope you can join us!
---
Much better fishing then the past few days. Lots of life at every drop. Unfortunlty a lot of it was smaller fish but they kept you busy and always kept your bait fresh. High hook was Ted with his limit and he won the pool. Next day that we have a trip scheduled is Friday January 2nd. Already have reservations so call ahead so you don't miss out on a spot! 25 person Max daily!
---
12/28
Fishing hasn't rebounded as much as we would have liked it since the moon. We unfortunlty have been having some slower trips. Some nice fish being landed for those who work real hard but they haven't been jumping on the hooks like we would like them to! Lots of great bottom around we keep exploring hopefully these big boys show up soon and we can find some teenagers!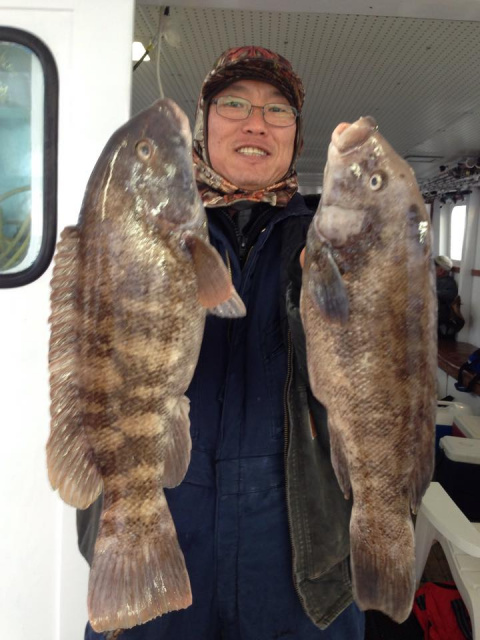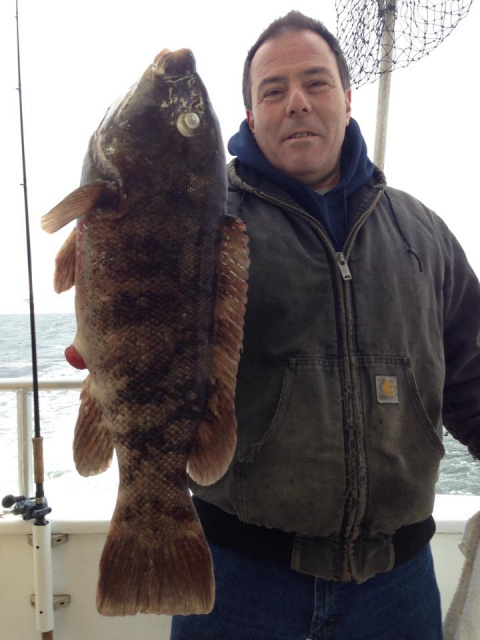 ---
12/27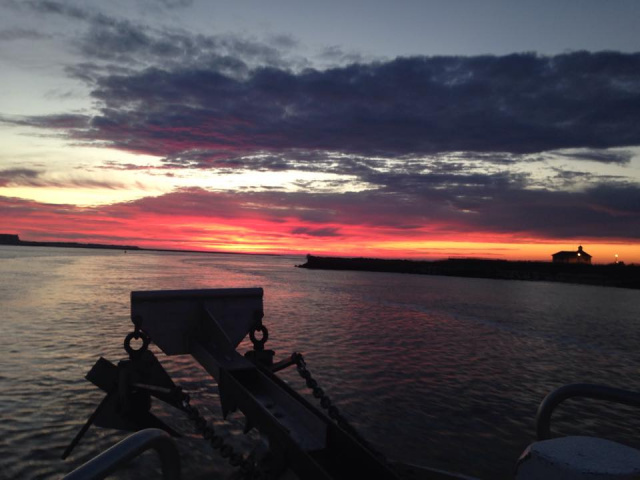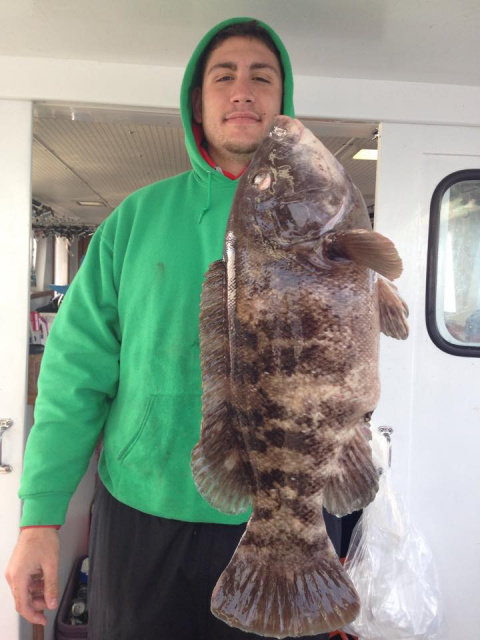 ---
---
12/14/14
Slower fishing than the past two days. Pool was taken by John Lu with a 6.5lb fish. Few big fish broke off and the bite was off for some reason. Looking for a few more people for tuesday. Please call before 6PM to get a spot. 516-449-3255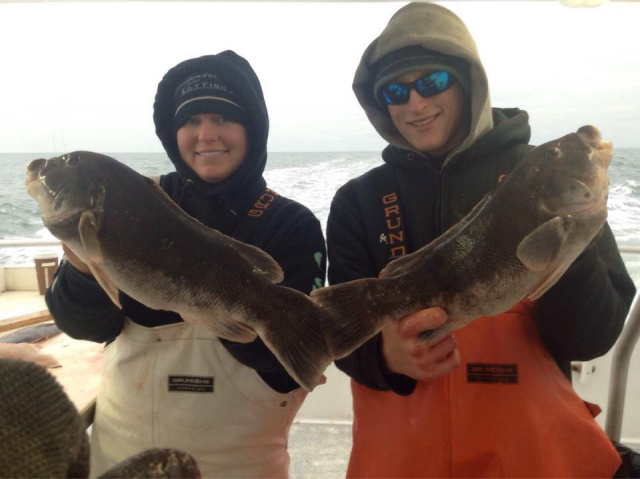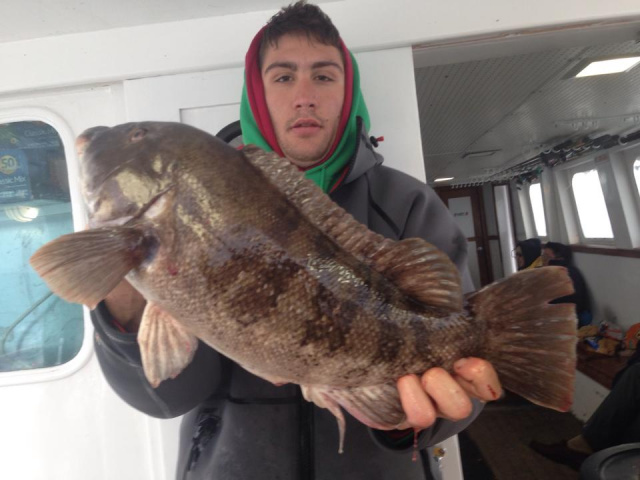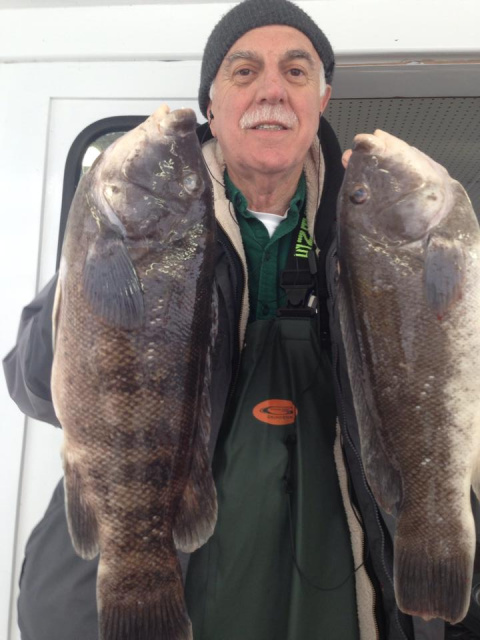 ---
12/13/14
Solid day today, definitely on the breezy and rough side, made it a little harder to feel the bites at times. The beginning of the day was the best, made a move inshore to have a little calmer weather and we only saw a few more fish inshore.

Jimmy from pa won the pool with a fish just under 10lbs and caught his limit with everyone going home with dinner.

Sailing everyday weather permitting, reservations required which can be made by calling 516-449-3255. Limited to 25 anglers with whites, greens and tackle included.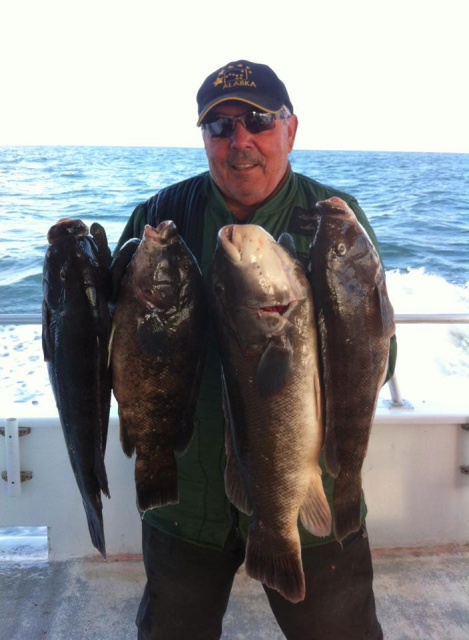 ---
12/12/14
Wind has kept us in so long we planned on going with or with out customers. We had a few guys who were game to go. First few drops had very little life on them,and third drop had good life and some nicer fish. Finished up with what we needed and even let some go to swim another day. Weather looks good for the rest of the week call and make your reservations or book online! 516-449-3255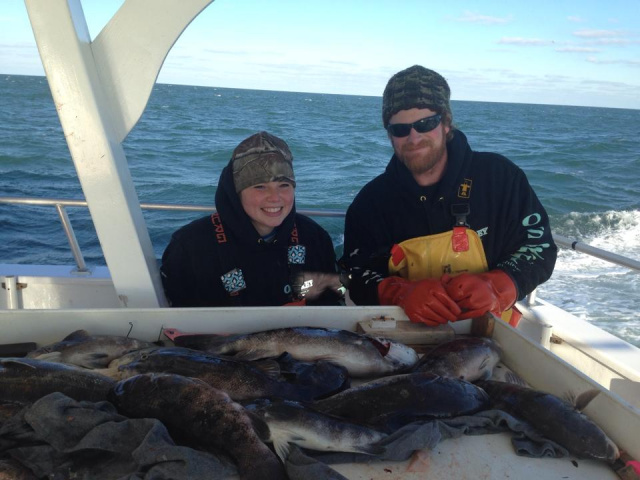 ---
12/01
Made an exploratory trip yesterday, caught the hell out of the shorts and got some keepers. There was a pretty big ground swell from the south that I think was the reason for the larger fish not really biting that well. We had about a dozen keepers. We kept what we wanted for dinner and released the rest to grow bigger and get caught another day.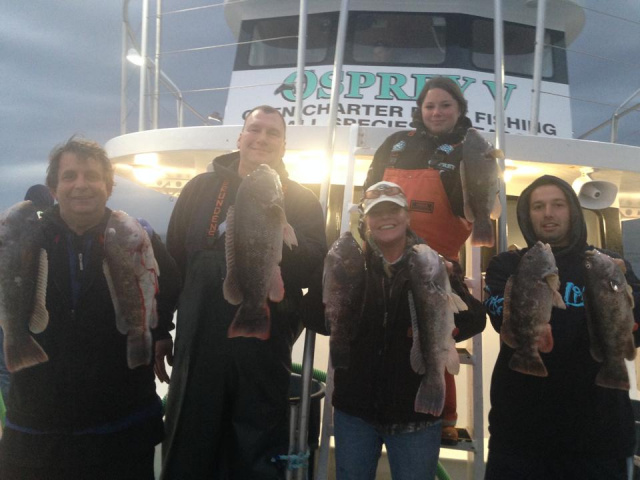 "Sharpen Your Hooks, Pack A Big Lunch and Have Some Fun On The OSPREY"
Contact Us
Make Checks Payable to:

Mailing Address & Directions

OSPREY FISHING FLEET

CELL: 516.449.3255

EMAIL: CaptainAmandaPeterson@gmail.com

OSPREY THE BOAT

(Must have Address on Check)

We Accept:

OSPREY FISHING
New Jersey Location
KAMMERMAN'S MARINA
447 Carson Avenue
Atlantic City, NJ 08401
GPS

447 CARSON AVENUE

ATLANTIC CITY NJ 08401

ADMIN LOGIN to TICKETS